Smart investors know that funding a private company comes with risks, but if successful, there are three paths to an exit: IPO, M&A and a profitable stage. Investing in a company that grows to achieve profitability can be satisfying and may yield small dividends, but the overall return on investment would be at a lower multiple than if there were an exit.
Industry data shows that the leap from startup to IPO can take up to a decade or more. According to Alon Atsmon, Chairman at Guardian and a board member at Cognata, an Autonomous Vehicle validation platform, the IPO path for companies in the automotive sector is long because "it requires, on average, three years for product production, another three years for the start of production (SOP) and potentially another three years to reach $100 million in sales before an IPO is possible." This makes M&A as the most realistic and desirable option for investors.
Snapshot of the Automotive Sector
In the global automotive realm, there are three main driving forces that are attracting significant investment: Electric cars, Smart Mobility (ride sharing), and Autonomous Vehicles (AVs). According to data provided by Atsmon, investment in the Israeli startup automotive sector through the end of 2017 breaks down as follows: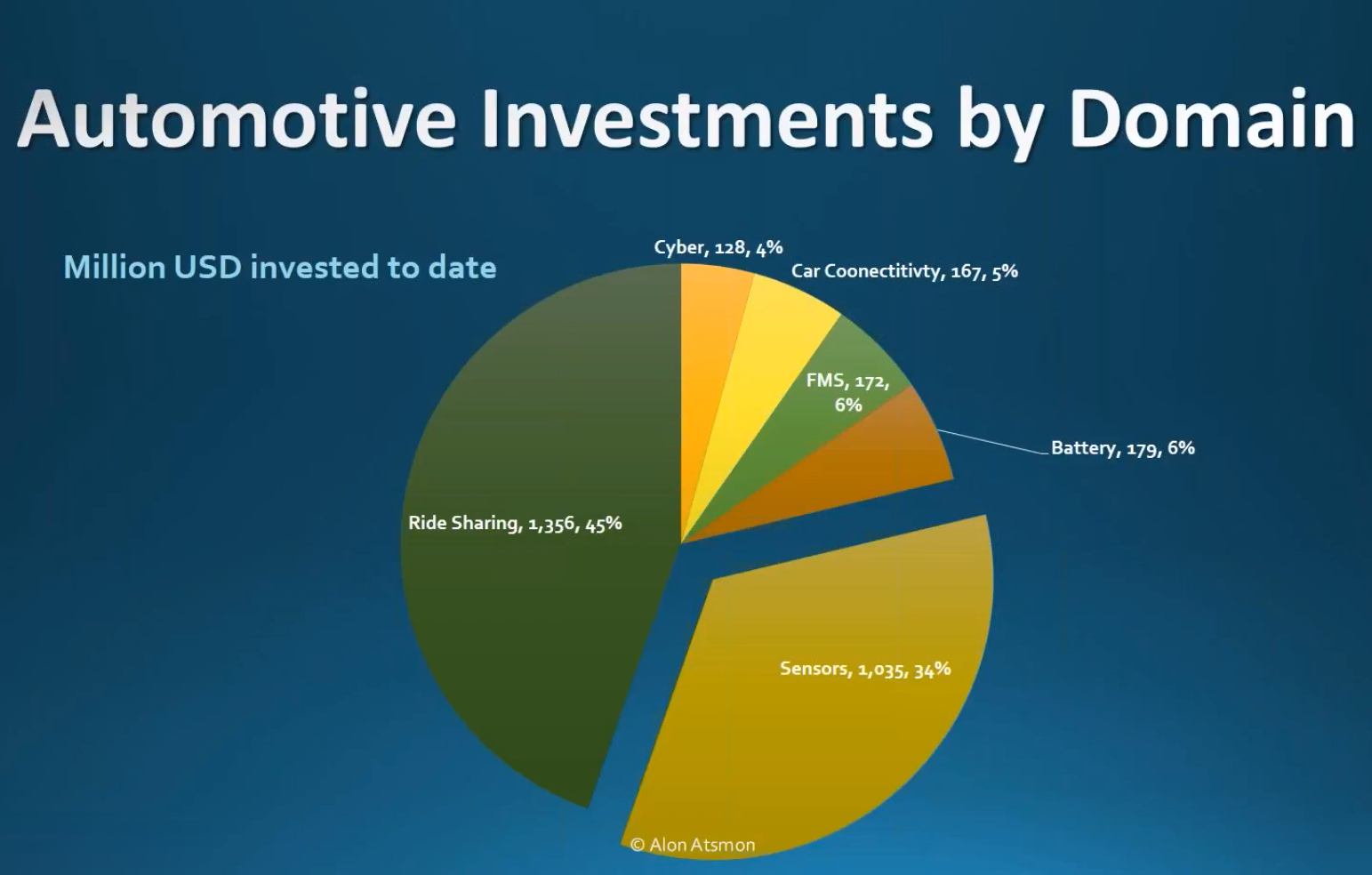 Automotive Investments by Domain (source: Alon Atsmon)
Ride sharing $1.356 B, 45%
Sensors $1.035 B, 34%
Battery $179 M, 6%
Fleet Management Systems (FMS) $172 M, 6%
Car Connectivity $167 M, 5%
Cyber $128 M, 4%
In that same period, there have been over $15.5 billion in exits by Israeli AV startups, most notably the Mobileye acquisition by Intel for $15.3 billion. Previous Israeli AV exits include:
2011 – Telmap (Intel)
2013 - iOnRoad (Harmon)
2013 – Waze (Google)
2015 – Towersec (Harmon)
2016 – Mobileye (Intel)
2017 Argus (Continental)
The AV sensor space in Israel is a particularly innovative due to the professional experience and knowledge acquired by many during mandatory military service, in the fields of object recognition and tracking (for Advanced Driver-Assistance Systems), big data, cybersecurity and cutting-edge communications.
A reflection of this high-level experience can be seen in the following metric which shows Israeli sensor startups have attracted over $1.035 billion in investment through the end of 2017.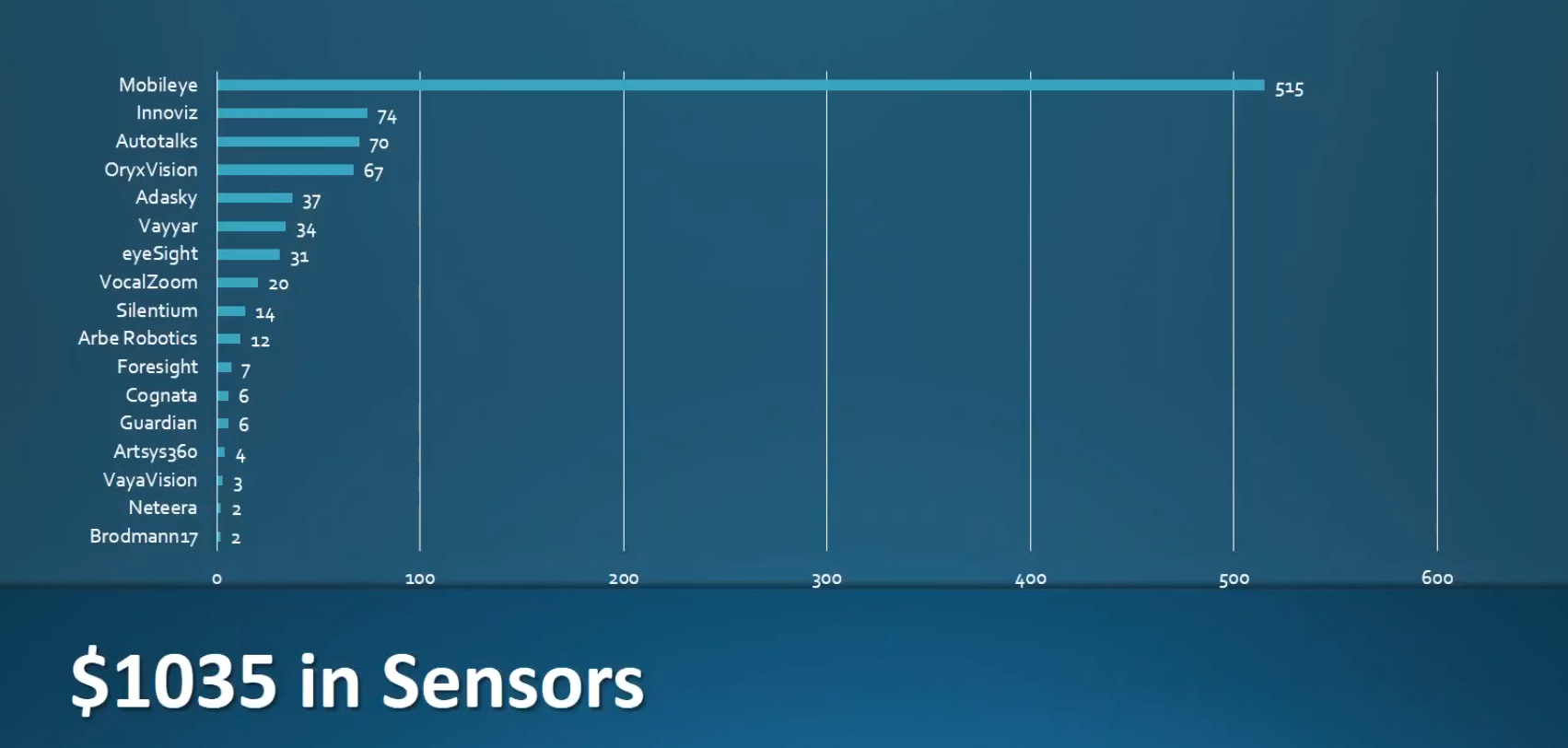 Sensor companies ranked by investment amount (source: Alon Atsmon)
Mind the Gap: Silicon Valley vs. The Silicon Wadi - AV Sensors Startups
When comparing AV sensor companies in Israel with similar companies in Silicon Valley there is a noticeable valuation gap on a scale of 1-to 5 in favor of non-Israeli companies. According to Atsmon, "If you compare apples to apples, an advanced company, like OurCrowd portfolio company Innoviz, raised its last round with a pre-money valuation of $200M, while a similar company, California-based Quanergy, raised a round in 2016 at a valuation of $1B."
This valuation gap can be advantageous for investors in Israeli companies in the event of a market downturn, because Israeli companies are sometimes viewed as more advanced than companies outside of Israel. "There is still a lot of arbitrage for investors to enjoy because of this valuation gap," Atsmon added.
Five Criteria Investors (and buy-side companies) Should Seek in AV Startups
With so much competition among AV startups for the billions of investment dollars and opportunities to partner or be acquired by top-tier tech giants or automakers, it can be difficult to spot companies that have the potential to break out of the pack. Funding for AV deals has grown significantly since 2016, increasing from $941 million to $3.091 billion in 2017 to 4.233 billion through mid-2018.[1]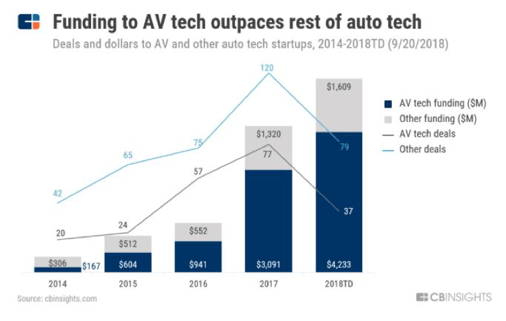 Here are five criteria for investors evaluating AV startups:
Eyeballing Exceptional Talent
Companies with teams that are in the top 20% of their field with significant experience add value to the equation. Experience acquired through military service, academic studies or other tech companies are a big advantage.
Ford Executive Chairman Bill Ford Jr. told Reuters that "a lot of the entrepreneurs are coming out of the Israel Defense Forces and they tend to be older than the traditional Silicon Valley (entrepreneurs). They have a lot of judgment and wisdom. Particularly in areas like cybersecurity, there's tremendous activity coming out of Israel."[2]
Patents in an Intellectual Property Portfolio
As part of the normal due diligence, look at the number of patent applications and patents granted, as well as any proprietary code or trademarks a company has received. Automotive Cyber Security company Argus, had 2 patents in 2017 and increased their patent portfolio to 50 patents a year later, which is extremely important according to Atsmon. This is a strong indicator of a company's development and innovation potential.
Examine the Unit Economics
Look at per unit costs of a sensor, not overall revenue. In the AV sensing space, Tier 1 companies are less involved at the moment, so Tier 2 companies like Innoviz or Arbe work directly with OEMs and build a relationship with them, working toward SOP. Ultimately, they will be acquired by a Tier 1 player who wants to capture those relationships and technologies. Alon Atsmon noted that when sensor companies are acquired by a Tier 1 company, "revenue is less important, but unit revenues are important; high margins and high per unit price tags makes a lot of difference."
Partnerships - Agreements Toward SOP
Tier 1 companies understand that revenues will (hopefully) come later, but want to see at least 2-3 partnership agreements that will lead the company toward SOP with an OEM, and this is key for a company that wants to be sold. When a company achieves 2-3 OEM agreements, it is "ready to be sold, the more successful, the higher the price tag will be," according to Atsmon.
It's Not Always What You Know - Engineering Relationships
Build relationships with the engineers at partner and potential partner companies as early as possible, so that that when the corporate development arm of an OEM or Tier 1 begins to look at acquisitions, they already know the technology and the engineers behind it.
In looking at Argus again as an example, the company presented at CES 2017 with 5 partners and in 2018, presented with 9 partners. Atsmon noted that when Argus sought bidders, before ultimately being acquired by Continental for $430 million in late 2017, they had several options because of the engineering relationships developed during the SOP phase.
Smart investing is fundamentally about thorough due diligence and asking tough questions. When evaluating the AV technology sector in Israel, or anywhere, these five tips can help to obtain answers about the people, the technology, the partnerships and their exit path. While the plan is for the cars to drive themselves, a great investor knows that you always need to have your hands on the wheel.
Next Step:
Sources
[1] https://www.cbinsights.com/research/auto-tech-startup-investment-trends/#avversusother
[2] https://www.reuters.com/article/autos-tech-israel/rpt-insight-israels-defence-expertise-drives-tech-boom-for-autonomous-cars-idUSL5N1SU20V