Most of us tend to associate the term "investments" with public equity. Many tend to consider a typical investment portfolio as a combination of individual stocks and bonds that comprise our mutual funds; say, what's in our 401(k)s and IRAs… maybe some investment in real estate.
But by limiting our investments to the area of public equity, we could be hurting our potential gains. Statistics show that – at least, in recent years – the greatest gains are going to private investors. Today's biggest returns generally are being realized before the company reaches the public market.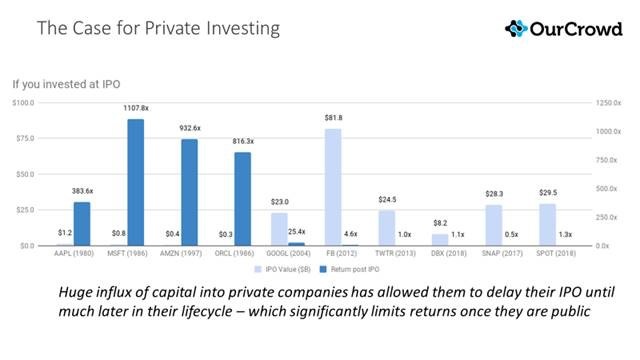 Source: OurCrowd, based on Andreesen Horowitz, recreated from slide 30 of "U.S. Technology Funding – What's Going On?"
"The bottom line is that venture capital is a wonderful thing – if you're on the inside," says serial entrepreneur, angel investor and OurCrowd CEO & Founder Jon Medved. In the 'good old days', you could still get in as an investor after a company went public – think Apple, Microsoft, Amazon, Oracle – before the company was valued at a billion dollars, and later see 5x, 10x, 100x your money. "That's what the public markets are supposed to do," says Jon; except today, it's very different. "On the one hand, tech companies are more important than ever. Except there's one problem: The public doesn't get a chance to invest," before the company goes public or gets acquired.
Now, individual investors do have a chance at accessing private, venture opportunities and adding this asset class to their existing investment portfolio. So how do you get involved in this, practically?
New Windows of Opportunity
Where "Old World" tech giants returned plenty in public markets – new ones have not. If there's more money to be made, it's probably not going to the investors who stick with the 'traditional' investment portfolios.
And the options for private investment have never been greater.
Before May 2016, only accredited investors who earned over $200,000 annually or had $1 million in net worth (excluding primary place of residence) could invest in private companies for equity return. Recent legislation – see Title III of the JOBS Act – makes it easier to invest in startups by eliminating this requirement.
So if you've never considered it before… it may be time to explore your options for startup investment.
Not "Just" Another Investment
The world of startups is startlingly different from other kinds of investments. For one thing, it can be more exciting. Sometimes, it's actually more of an investment in people than in a business because the business itself may be not much more than an idea. Or it's getting involved when the company is on the verge of a major milestone – or even pre-IPO or acquisition.
Then, there's the second key difference: risk. Reports vary, but it's a widely accepted narrative that as many as 90% of startups fail in the first five years.
On the other hand, there is the increased potential for high reward. Each successful startup is its own "Cinderella story" – a homegrown initiative that is transformed to become a publicly traded, growing company – overcoming the dreadful stepmothers of the business world.
The Lure and the Promise
We all know stories of wild success, like Sequoia Capital's legendary return from their investment in WhatsApp (for which they were mocked, at the time) – later acquired by Facebook, earning Sequoia about $3 billion – representing a 50x return on its investment. Or Bessemer Venture Partners' $6 million series A for Intucell; when Intucell was acquired by Cisco for nearly $500 million two years later, Bessemer earned over 25-30 times their principal investment.
It's these kinds of anecdotes that excite investors about the potential payoffs of early-stage investment in the Next Big Thing. We all dream of returns of ten to a hundred times an initial investment – but the risk remains the most important factor.
Keep Your Overall Portfolio Balanced
What diversification of your overall investment portfolio looks like for you depends on a lot of factors, including – but not limited to – your appetite for risk, the economic environment, your specific investment objectives, and other factors.
An effectively diversified portfolio might include some or all of the following kinds of investments, in a range of geographical regions: cash and cash alternatives, U.S. equities, non-U.S. equities, fixed income, real estate, and alternative investments.
Allocating chunks of your investment portfolio to different types of investments in various locations opens the door to increased profits over time. As summarized in this article by Summit Wealth, "Asset allocation entails exchanging the potential to reap a higher return – and the risk of taking an equally dramatic loss – for the likelihood of generating a more consistent, positive return over the long term."
Defining Initial Targets
In startup investing, the axiom is that you need to be willing to lose money in order to turn a profit over the long term. (See Tanya Prive's article on Forbes for a more in-depth explanation of this dynamic.) At the same time, there are various investment strategies that help investors improve their chances and maximize earnings.
The question is what percentage of your overall portfolio to put into such a risky asset class. How much is right? You don't want to invest too much in startups because of their high rate of failure.
According to SharePost, allocating 5% of your overall investment portfolio to private growth companies (including startups) could increase the returns of the portfolio by as much as 12%.
It's important for newer startup investors to consider the conventional wisdom that most (or all) of your initial investments may not pan out. According to Forbes contributor Martin Zwilling, the growth target should be five to ten times your initial investment in five years.
The Option to Choose Startups You Care About
As described in this post, many investors are motivated by a startup's story. Sometimes, the motivation relates to specific, personal concerns connected, perhaps, to a particular medical innovation or anticipated benefits to the environment. Others are motivated by a strong connection to a particular geographic area and the desire to contribute to the region's economic development.
This is an opportunity to have an impact, potentially disrupting an industry – or even changing the world.
Great Things are Done by a Team
Don't forget it's not only about the startup's product or service. A crucial factor in deciding where to invest involves getting to know the team – and having absolute faith in their abilities.
For example, consider the differences – and benefits – to startup teams that include serial entrepreneurs versus brand new founders, as Fred Wilson observes.
Understanding Liquidity
While startup investing can have significant benefits in terms of your returns, it's different for your liquidity – this is an asset class that does not easily or quickly convert to cash.
Liquidity relates to two factors: whether you can buy or sell quickly, and to what extent the trade has an impact on the stock's price. While companies on the major exchanges are typically considered liquid – investments in startups are not. Once money has been invested, you can't expect to see returns until a "liquidity event" – when the company undergoes a merger or acquisition, or an IPO when the stock goes public. Generally, this takes a minimum of three to five years.
Better Overall Portfolio Returns when including Private Companies
Including startup investment in a carefully diversified portfolio has been shown to increase profits – and not just for individual investors. The majority of pensions and endowments have also reached the conclusion that investing a portion of a portfolio in venture and private equity investments can reduce the risk while increasing returns. For example, Yale University's endowment allocated 31 percent of its portfolio to venture capital and private equity in 2013; the endowment has generated 29.9 percent annualized returns in private equity and venture capital since 1973.
Findings released in 2012 by Professor Robert Wiltbank, from the largest data set on individual angel investments ever collected, showed that U.S. angel investors return 2.6 times their money on average. If we assume that the average time to exit a startup investment is five years, 2.6 times equates to 21.1 percent annualized returns – slightly higher than overall venture returns.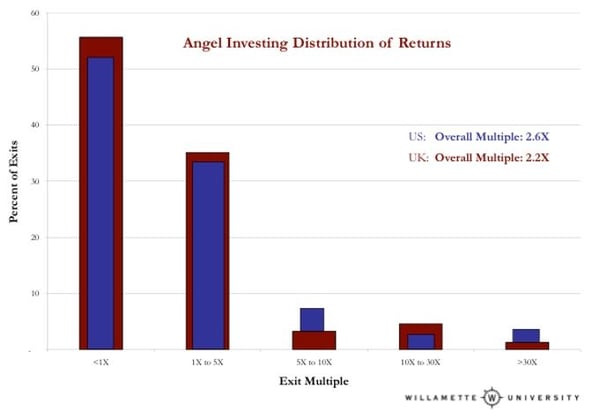 Source: TechCrunch/Willamette University
Other sources document these same kinds of oversized, annualized returns from private equity and venture capital. For example, Thomson Reuters launched the Thomson Reuters Venture Capital Research Index (also in 2012), which seeks to replicate the performance of the VC industry. The index showed that venture capital returned 19.7 percent per year since 1996 – as compared to 7.5 percent and 5.9 percent, respectively, for public equities and bonds.
Not One but Many
As explained in this OurCrowd post, the more startup companies you invest in, the greater the chance of investing in a "winner" that gives you the return you want. But keep in mind that it's not just a question of number; you'll want to diversify your investment based on company industry and business stage.
Exactly how many startups to invest in is the source of some debate: Some experts say that ten to fifteen companies is the "sweet spot" for building a strong startup investment. The Monte Carlo Simulation suggests that twenty-five investments provide the optimal return. (Read more about this in our previous article.)
The significance of spreading yourself across multiple investments within the startup space is perhaps most aptly described in Siding with the Angels by NESTA, which states that if you invest in ten startups – one or two will soar, two or three will do okay, and the rest will fail. If done properly, the report shows, returns can far outweigh the losses, allowing investors to generate around 25 percent ROI per year.
Startup Investment Done Right is a Building Block for a Holistic Portfolio
And here, we come to the fundamental challenge – the one problem that's inherent to well-managed investment in the startup arena:
As we've seen here, investment in carefully selected startups can increase your overall portfolio's annual returns.
But that should leave you with many more questions: How do you make the connections and gain access to the exciting, promising companies seeking funding? Will a startup past the seed stage take a lone, non-VC check? And even if you do have access to a steady stream of diverse deal flow, how will you manage to do extensive due diligence for each company in order to build a diverse startup portfolio of 10-25 companies?
As Jon Medved puts it:
"Find a way to put great companies in front of individual investors, give them access, do the due diligence, the legal, the management, the way venture capitalists do."
Working with OurCrowd gives you the opportunity to become involved in this risky asset class in a way that minimizes risk, and complements – but does not replace – the rest of your portfolio. It allows you to leverage the tremendous potential of startup investment, providing real opportunities to increase your annual returns and maximize profits.
Next Step: