Welcome to OurCrowd, a global leader in venture capital and equity crowdfunding. Below, learn more about what makes OurCrowd an award-winning, trusted platform for startup investing.
A Venture Capital Firm Built Into A Startup Investing Platform
Accessible, VC-level startup investing from A-Z
OurCrowd takes pride in the fact that we give individual investors access to great companies, while doing the due diligence and legal work, and managing the investment the way that venture capitalists do - with reporting, seats on the boards of portfolio companies, leading rounds, and investing in future rounds.
VC quality due diligence and negotiations
OurCrowd has a thorough vetting process in place for companies it looks into investing in: After a company has been screened and has pitched to OurCrowd, various diligence meetings take place to dive further into key areas of analysis. This includes the company meeting with various members of the OurCrowd Investment team, as well as consultations from industry experts (as required). Key areas of analysis include the business plan, HR diligence, value proposition, competitive landscape, industry trends/forecasts, financial projections, and barriers to entry (e.g. patent review and technological assessment). The startup is then presented to OurCrowd's Investment Committee for a final decision.
Ability to double down on winning portfolio companies
OurCrowd makes sure to know the progress of our companies not only at the time of investment but on an ongoing basis. We often have observers on the company board, and after meeting with these directors or observers, we can then perform analyses to form a view for each company every quarter. Having a close view on a company through the board observers allows us to help our companies grow, and see from up close if the company has reached a transformative contract or event that would make this company seem extremely promising and have what it takes to become a 'breakout company'.
Access to VC-Level Deal Flow
–

and Plenty of It

OurCrowd is built on the foundation of equity crowdfunding, and that includes a growing community of investors from around the world. This investor community – comprised of angel investors, industry professionals, multinational executives, institutional investors and VCs – is available to turn to for sourcing, evaluating deals, building companies, sitting on boards, mentorship and more. Unlike a smaller VC, OurCrowd isn't limited by resources and is empowered to access deal flow across sectors, stages and geographies, as well as through strong relationships with top tier investors and VC partners.
Diversification Is Encouraged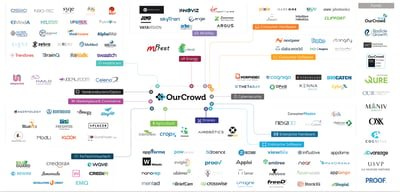 At OurCrowd, you have the option of investing in a range of startup sectors and stages, depending on what suits your criteria. You can choose to invest in individual startups, OurCrowd-managed venture funds, and even venture funds managed externally by some of the top managers in and out of Silicon Valley. OurCrowd's large volume of deal flow empowers our investors to make informed investment choices about what kinds of companies to invest in, how often to deploy, and the pace in which to reach your desired portfolio size.
We Invest In Everything We're Offering You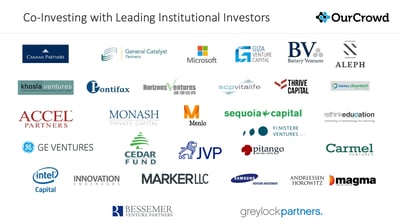 Unlike most other startup investing platforms, OurCrowd invests in every single funding deal put on the platform. Core to OurCrowd's philosophy is access – we invite our investor community to invest alongside us, at the same VC terms. The access granted our investors extends to the fact that they are, by default, investing alongside our top tier co-investors in relevant investment opportunities. In addition, by investing alongside OurCrowd, our investors gain access into crucial follow-on rounds, and know that OurCrowd will double down on the winning portfolio companies – and offer follow-on support to those who need it – by leveraging our funds, the investor community, and our co-investors and partners.
A Proven Track Record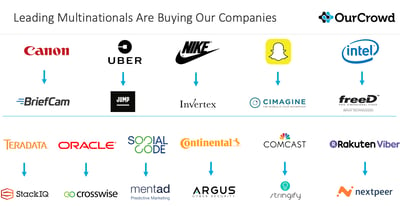 OurCrowd has one of the largest portfolios in VC today. With 160+ companies and funds spanning a dozen sectors, OurCrowd has managed to create fertile ground for growing a strategic global network of multinational corporations, VCs and its 25,000-strong investor community, including professionals and executives across industries. OurCrowd's portfolio companies are primed for success with the help of this vast network, mentorship, follow-on rounds, and more.
In fact, leading multinationals are buying our companies; in April-May of 2018 alone, we had three multinational exits across sectors with Uber acquiring JUMP Bikes, Canon acquiring BriefCam, and Nike acquiring Invertex. The portfolio has seen 25 exits since 2014, its first when OurCrowd-backed ReWalk Robotics had its IPO (NASDAQ: RWLK), making it the first exit from an equity crowdfunding platform in history.
A Global Team of Experienced Investment Professionals
OurCrowd is led by serial entrepreneur Jon Medved and run by a team of seasoned investment professionals. Jon Medved has been part of the founding teams at several successful Israeli startups, and as a venture and angel investor over the past two decades he invested in almost 250 startup companies, helping to bring 25 of them to values in excess of $100M. Read more and get to know a select group of the executive team.
Post-Investment Support and Strategic Global Network
OurCrowd is proud of its value add in the form of post-investment support combined access to a strategic network through its Corporate Innovation Program.
Post-investment, OurCrowd provides mentorship, takes board seats, invests in follow-on rounds, and fosters strategic multinational partnerships. At the same time, OurCrowd's team builds its network of multinational partners while fostering relationships between its portfolio companies and a global network of multinational scouts, investors and innovators.
Our investors connected to multinational corporations are invited to join the Corporate Innovation Program.
Next Step: