Countries across the globe have begun the process of liberalizing their marijuana laws which presents a unique opportunity for cannabis as a high-growth market. Just like the early days of the Silicon Valley, it's about identifying the right opportunity at the right time and taking action while the sector is still in its infancy. The race is on - from investors, entrepreneurs and multinationals to cannabis cultivators, brands, and global distributors - the cannabis industry is anticipated to soar from $7.7B this year to $57B by 2027[1]. The OurCrowd report, Cannabis: A Growing Investment Sector, provides a general window into where the global cannabis market is going and shines a spotlight on market growth potential, medical vs. recreational cannabis, disruptive technologies and investment opportunities.
CANNABIS: A FAST-GROWING MARKET - MEDICAL VS. RECREATIONAL
The largest group of cannabis buyers is in North America and are likely to remain so for the next decade, bolstered by Canada's nationwide legalization of recreational cannabis. Legal sales in Canada in 2019 alone are expected to total $4.34B[2] and are projected to be $5.6B by 2021[3]. In the US, 95% of the population lives in a state where there is some form of legal cannabis. Within the context of medical spend vs recreational spend, research groups New Frontier and Baker have found that US medical patients spend 3x more on cannabis than recreational users.
Medical applications of cannabis are being utilized to treat wide-ranging and far-reaching ailments, which include assisting with muscle spasms for conditions like sclerosis, nausea from cancer chemotherapy, poor appetite, and weight loss cause by illnesses such as HIV, seizure disorders, and Crohn's disease.[4] The chart below indicates that the US recreational cannabis will be both the larger, as well as higher growth than medical use.
Range of US medical marijuana retail sales projections: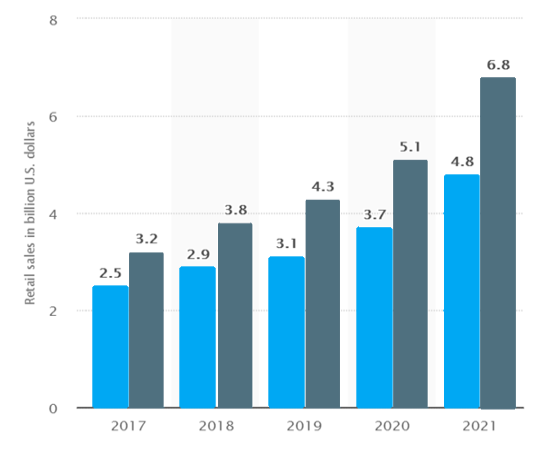 Across the pond, in the last six months, the European cannabis industry has grown more than in the previous five years, with over six new countries announcing legislation and patient numbers growing on a monthly basis.[5] The wide-ranging consensus is that Europe will become the largest medical cannabis market in the world, with medical usage trumping that of a recreational nature[6].
Consumption Trends
Legalization has resulted in the emergence of new verticals within the cannabis industry that, in turn, are shifting the consumer's behavior towards non-traditional products as well as methods of consumption. Marijuana is rapidly penetrating the mass market and taking market share from alcohol in the process.
One factor is the availability of edibles which provides a discrete, smoke-free experience, and since they can command higher prices, edibles often account for 25 to 60% of a dispensary's profits.[7] Consumption by type of cannabis seems to depend on your generation, according to research. Millennials seem to be all about vaping[8], while Generation Xers are the biggest consumers of edibles. Baby boomers are the biggest buyers of topicals, lotions and bath products – all products which alleviate pain and provide joint relief.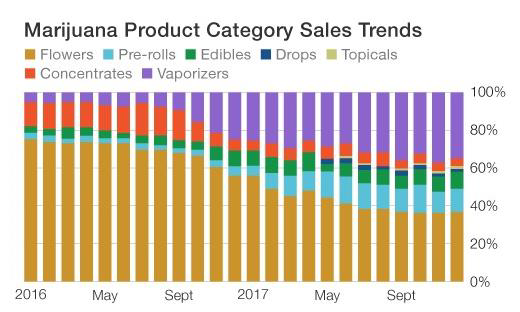 DISRUPTIVE TECH & INVESTMENT
The future of cannabis agriculture gravitates toward technology-based systems, and so too will the entire market as cannabis firms innovate to enable efficient systems and cut costs. There is plenty of room for new players with good ideas to establish first-mover advantage. One such focus has been forming a viable intersection between cannabis and e-commerce, not just as a marketplace, but to digitize the entire experience for companies, as well as the customers. Due to the refusal of several financial institutions that provide businesses in the industry with funding, cryptocurrency is emerging as a viable solution for players seeking financial partnerships and support.
Investments over the past decade have so far exceeded $2.71B, across nearly 1000 deals. The opportunity for business ventures of all types and sizes is supported by unprecedented pre-existing demand, combined with the emergence of new verticals, that will serve to lure non-traditional consumers into the space via the penetration of medicinal and recreational markets.
Though the market has been plagued by legislative elements which decelerated industry growth, it is now developing into a competitive and complex space as demonstrated by both the number of deals, as well as the value of total funding has surged in the space over the last few years. [9]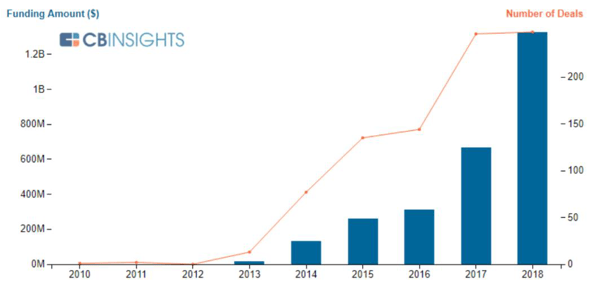 The increase in deals indicates that investors are hungry to capture a portion of the industry. There are a relatively small number of firms providing the capital to cannabis companies, indicating that the landscape in this regard is still at an exceptionally early stage. One of the most active investors is the 7thirty Opportunity Fund, which has made three investments in notable cannabis companies and operates an accelerator called Canopy Boulder, which has made 93 investments in the space. OurCrowd has recently entered into a partnership with the 7thirty Opportunity Fund to set up a new $30M global cannabis technology venture capital fund.[10]
ROOM TO GROW
The cannabis market has been propelled into prominence due to the wave of legalization that has swept through North America and Europe. The potential demand for safe, secure, and easy online e-commerce, inventory control, logistics, shipping, and customer service etc. means there is no end to the current opportunities.
OurCrowd continues to believe that the vast potential for growth in the cannabis market represents a unique opportunity for attractive returns for our investor base. As the sector continues to develop, we aim to leverage our expertise and expand our portfolio across multiple high growth subsectors within the broader market, including subsectors that will cater towards the needs of the rapidly advancing industry ecosystem centered around solutions in logistics, agricultural technology, as well as cultivation methods.
Click here to access the full OurCrowd Report on the cannabis sector.
[1] https://www.prnewswire.com/news-releases/data-shows-that-the-global-legal-cannabis-market-is-set-to-increase-in-value-676675213.html
[2] https://www2.deloitte.com/content/dam/Deloitte/ca/Documents/consulting/ca-cannabis-2018-report-en.PDF
[3] https://www.growopportunity.ca/news/brightfield-group-releases-comprehensive-report-on-emerging-international-cannabis-market-32198
[4] https://www.webmd.com/pain-management/features/medical-marijuana-uses
[5] https://static1.squarespace.com/static/58877105725e25f7d30b8f08/t/5b46230af950b713d5fe0946/1531323210451/The+European+Cannabis+Report%E2%84%A2+3rd+Edition.pdf
[6] https://ca.finance.yahoo.com/news/potential-europe-cannabis-market-motivate-130013958.html?guccounter=1
[7] https://www.forbes.com/sites/mikemontgomery/2017/07/19/edibles-are-the-next-big-thing-for-pot-entrepreneurs/#4717fcfd576b
[8] https://energyandresourcesdigest.com/marijuana-market-trends-investors-buds-edibles-topicals-vaporizers/
[9] https://www.cbinsights.com/search/deals/?sdate=2010-01-01&edate=2018-10-
10] https://www.timesofisrael.com/ourcrowd-7thirty-set-up-30-million-fund-to-invest-in-cannabis-tech/